Really Great Reading's
Implementation Workshops
Are you implementing Countdown, Blast, HD Word, or Boost/Blitz? Would you like your teachers to learn how to prepare students to face the challenges of complex content area reading, lesson pacing, routines, and procedures? Would you like us to come directly to your school? Call 866-401-7323 x3 or send us an email request>>
---
Decoding and the Struggling Reader Workshops
Teacher background knowledge is a key component to successful reading intervention. Really Great Reading offers different training options to provide teachers and interventionists with the background knowledge they'll need to successfully diagnose, group, and teach struggling decoders. Even if you don't use Blast Foundations, Phonics Blitz or Phonics Boost, our professional development will offer you valuable techniques for helping struggling readers.
See a schedule of workshops or learn more about our workshops, webinars and training modules>>
---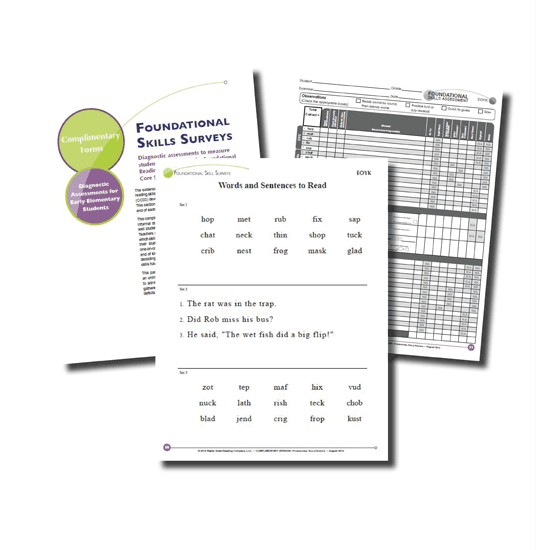 Really Great Reading offers a family of complimentary diagnostic decoding assessments to help educators understand their students' word-level reading skills. These complimentary downloads contain everything you'll need for initial assessment of an unlimited number of students. Each packet provides an explanation of how the survey results can be used to group students, and how to use data to plan effective and efficient instruction.
In just 5-7 minutes, these one-on-one, informal diagnostic assessments can answer these key questions: Which students are struggling with decoding? What types of words are they struggling with? What is the source of the underlying confusion? What type of instruction will yield the greatest results.
Learn more and download our complimentary diagnostic assessments>>
---
Successful reading interventions start with accurate diagnosis and grouping. Really Great Reading's Grouping Matrix helps facilitate differentiated data-driven instruction and reporting. It is a free, web-based data management system that enables educators to group students (K- 12) according to the type and depth of their decoding difficulties. The same data management system can be used to monitor progress, report, and adjust.
NEW - Grouping Matrix Live Assess
Now you can assess and group your students in just one step. As you listen to your students read, enter the miscues directly into the Grouping Matrix, and it will do the rest. "Live Assess" will pinpoint the types of word a student is misreading, identify specific areas of confusion, total the types of errors, record the results, and group your students according to their decoding strengths and weaknesses. It's never been easier to diagnose and group your students.
Learn more and sign up for free access to the Grouping Matrix>>
---