Countdown
for Kindergarten™
---
---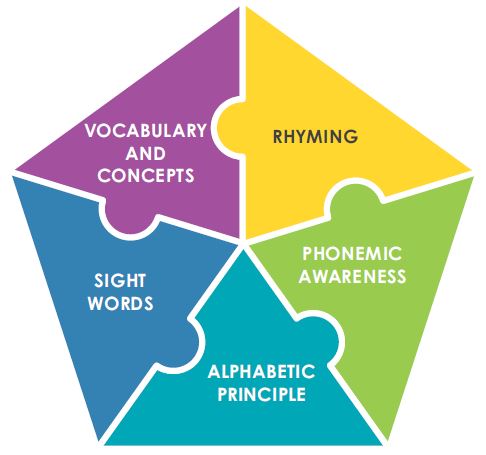 Countdown- Is Organized In Strands
Functional Vocabulary and Key Concepts For students to participate in and benefit from direct phonemic awareness and phonics instruction, they first need to understand specific vocabulary and key concepts. Initially, Countdown lessons introduce concepts and vocabulary (such as one-to-one correspondence, first-next-last, same and different, and whole-part) through playful instruction, using words and images that are familiar to most young students. Once this foundational knowledge is well established, instructors may confidently use specific terminology and apply key concepts to teaching students about the sound structure of our language.
Rhyming Recognizing and producing rhymes is an early sign that a child is developing phonological awareness (a general understanding of the sound structure of language). These skills often emerge spontaneously as young children engage in language play. Rhyming ability may indicate that a child has begun to notice global similarities in patterns of sound within words. While rhyming can be fun and engaging, and all students may benefit from some exposure to it, it is just a first step toward building strong phonological awareness.
Phonemic Awareness Beginning Sound Isolation (BSI) Blending Segmenting Addition / Deletion Phonemic awareness is the understanding that spoken words are made of individual speech sounds, or phonemes, that can be combined in different sequences to create new words. The ability to manipulate phonemes (to isolate, segment, and blend individual sounds) supports students as they master the alphabetic code and apply this sound-letter knowledge to reading and spelling. Research shows that phonemic awareness has a powerful influence on early word decoding skills.
Alphabetic Principle Decoding Encoding Letter-Sound Relationships The alphabetic principle is the understanding that spoken words are composed of individual sounds, and that printed letters represent those sounds. Recognizing that there are predictable relationships between letters and sounds, and that students can learn these relationships, is critical to their decoding success.
Sight Words Some words should eventually be known "by sight," without analysis, either because they occur so frequently (high-frequency words), or because of their phoneme-grapheme (soundletter) irregularities. In Countdown, we call these "heart words" because students should know them "by heart." While it is possible to gain some phonemic (sound) information from the letters in these words when they are first encountered ('come' starts with /k/), the ultimate goal is to read such irregular words automatically, without conscious effort.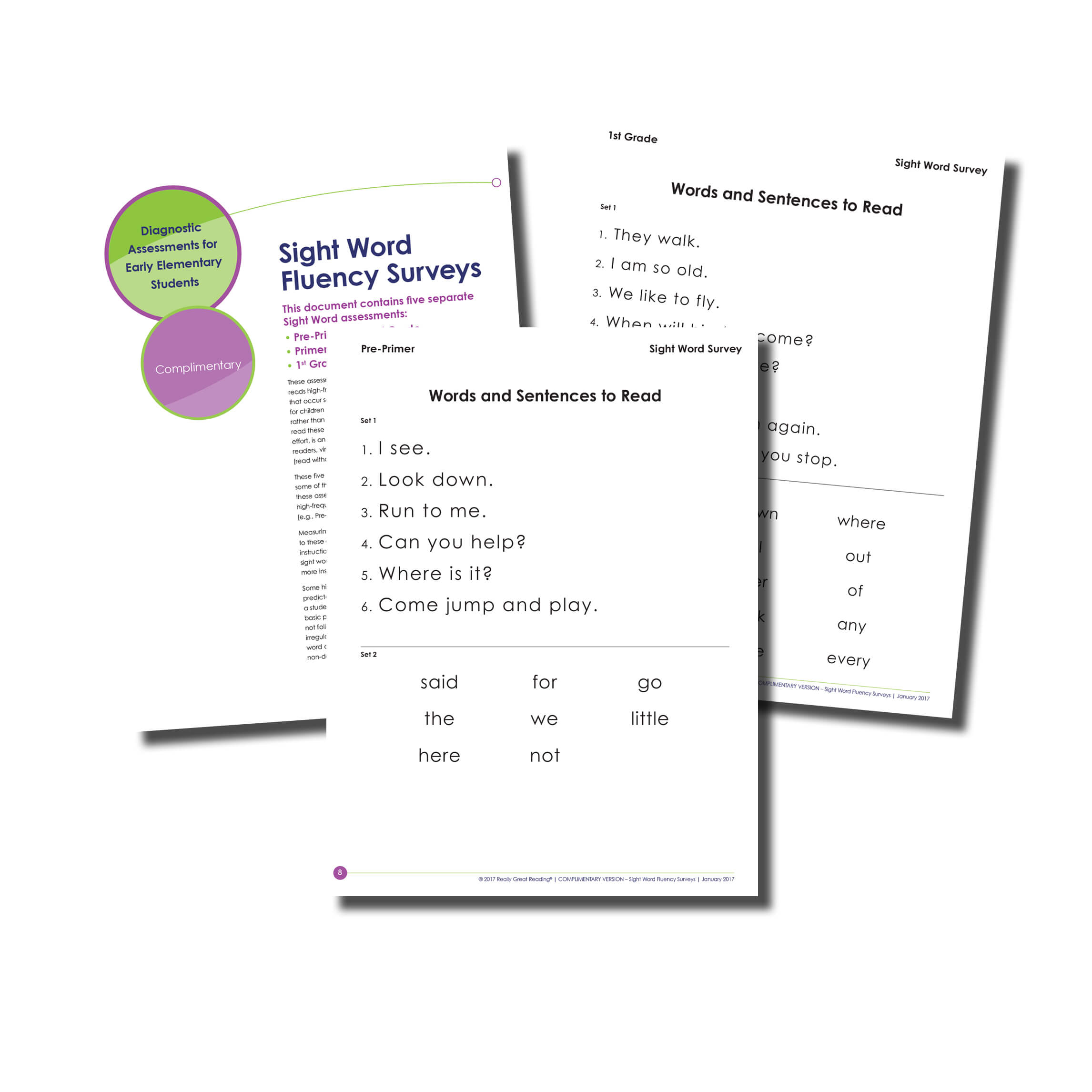 The Sight Words Survey is a complimentary set of assessments that determine how well a student reads high-frequency English words. It is designed to be used:
in the beginning of Kindergarten through 3rd grade
and with older students who still struggle to read high-frequency sight words
One-on-one assessment of:
High-frequency sight word knowledge from the Pre-Primer through 3rd grade levels of the Dolch 220 list
Automaticity reading sight words both in context (simple sentences) and in isolation
The data collected from these assessments can help determine the levels of sight words with which students are proficient and the levels with which they need more instruction and practice to gain automaticity.
The Kindergarten Screener is a complimentary screening tool designed to give teachers a quick look at the basic knowledge students have at the beginning of Kindergarten. It is designed to be used:
At the beginning of Kindergarten
As the first step in determining students' readiness to begin Kindergarten-level literacy skills instruction
One-on-one screening of students' basic knowledge in five areas related to early literacy:
Functional Vocabulary
Phonological Awareness
Letter Knowledge
Word Reading
Concepts of Print & Writing
The screener will give you the information you need to group children into major categories based on their strengths and weaknesses. For students who have some background knowledge in early literacy skills, this screener will help you understand what they are ready to learn next. For students who are demonstrating weaknesses in their basic literacy skills, this screener will help you determine which additional assessments you may need to administer in order to better understand your students' instructional needs.