---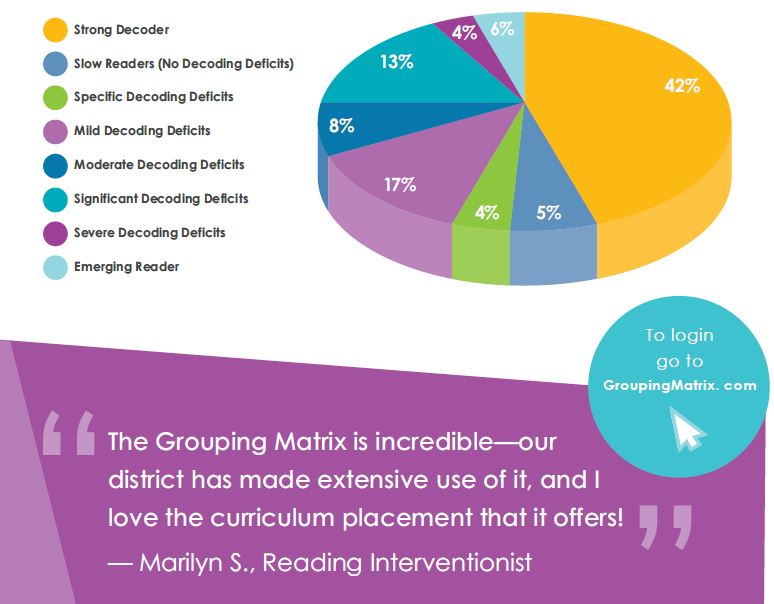 Complimentary Grouping Matrix™
How can you use data to group students according to their decoding strengths and weaknesses? Use our complimentary, web-based, password protected, secure student data management interface, the Grouping Matrix. It enables you to group students (K-12) according to the type and depth of their decoding difficulties using data from grade-level Oral Reading Fluency passages (such as DIBELS, AIMSWeb, Six Minute Solutions, Read Naturally, EasyCBM) and our complimentary diagnostic assessments. If you have questions about the Grouping Matrix please contact us at groupingmatrix@reallygreatreading.com
Grouping Matrix Quick Facts:
Each school within a given district has a unique username and password.
Uses data to group students according to their decoding strengths and weaknesses
Identifies and groups students for decoding instruction
Provides easy-to-read progress monitoring reports and graphs
Enables progress monitoring for both individuals and groups
To see Grouping Matrix How To Videos scroll down, or click here>>
Getting Started With the Grouping Matrix
When students are struggling to comprehend what they're reading, the root cause needs to be identified and fixed. Thus, successful reading intervention often starts with accurate diagnosis and grouping. If you suspect your students have foundational skill weaknesses, like poor decoding skills, the Grouping Matrix is a practical place to start. It helps facilitate differentiated data-driven instruction and reporting.
Step 1 -Request Complimentary Access to the Grouping Matrix
Each district and school within a given district has a unique username and password. To request access click the button below:
Step 2 -Launch the Grouping Matrix
Once you have a username and password click the button below to log in.
Step 3 -Enter Student information
Log in and enter your student information by hand, or we can help you import your students.
---
---
Learn how to export all student scores and adjust the look of the data within a spreadsheet.
Learn how to move student data from the Group Progress Report to a spreadsheet and make it more digestible for your team.
Learn how to use the Year-to- Year Transition Tool to upgrade students to the current school year.
Learn how to navigate the Grouping Matrix and enter new students in 2nd and 12th grade.
Learn how to use the Live Assess feature to easily input student miscues which the Grouping Matrix will score and upload the results for you.