HD Word™ for 2nd - 12th Grade
HD Word is a set of lessons that build the important and lifelong foundations needed for all future academic and life success. The lessons systematically teach the essential phonics structures that unlock the English code in both simple and complex words. While the focus of HD Word is word study (phonics and phonemic awareness), there is a high rate of transfer to students' skills in other areas of reading, such as fluency and comprehension. The net effect is faster, more accurate, and more confident readers.
2nd - 12th Grade - Prevention
Tier 1,
whole-class, supplemental first instruction
Individual A-la-carte Materials for Replacement of Reorder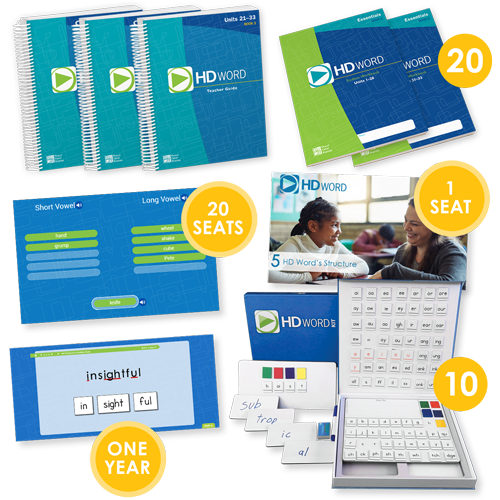 HD Word Classroom Setup with Virtual Components
Everything one teacher needs to teach 20 students:
Grades 2–12 - Intervention for non-cognitively delayed students in small to medium groups who have mastered basic phonics skills, but struggle with more advanced phonics features. Can be supplemented with HD Word Plus and HD Word Skills Assessments.
Learn more about HD Word Classroom Setup with Virtual Components:
---
Click here to learn more about Research Alignment & Successes - View white papers, dyslexia & ELL alignment, third-party research, and data that reflects educators' successes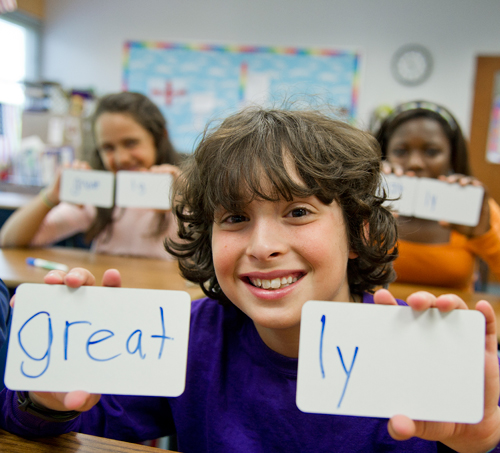 HD Word Structure of Units and Lessons - Just 15-20 minutes a day, 5 days a week
HD Word has 33 units (weeks), each with five daily lessons. Lessons are designed to be completed in 15-20 minute sessions. In one week, students are immersed in 75-100 minutes of explicit foundational skills instruction.
Lesson 1 (Monday) Oral Reading Fluency/Comprehension
15–20 minutes
In the first lesson of the week, students are given the opportunity to practice their Oral Reading skills by reading aloud from expository texts. At the same time, their classmates gain valuable reading skills as they listen to their classmates read aloud and identify errors. The students' goal in Oral Reading is to read with an accuracy rate of 98% or higher. When students read accurately, their comprehension improves because they are correctly interpreting the words on the page. Comprehension questions are included beginning in Unit 21 of the Student Workbooks to encourage students to not only read accurately but to also pay attention to what they are reading.
Lesson 2 (Tuesday) Phonemic Awareness
15–20 minutes
The phonemic awareness component of HD Word (Units 1-20) involves various skill-building activities, such as segmenting, blending, and manipulating phonemes. These core skills are taught and practiced in a high-impact, engaging, and multisensory manner. The phonemic awareness instruction is pure; students concentrate on speech sounds without linking them to letters or spellings. There is a strong focus on vowel phonemes, which helps promote reading and spelling success.
Lessons 3 & 4 (Wednesday & Thursday) Phonics Concept
15–20 minutes each
The phonics concept lessons of HD Word build from simple concepts (digraphs, blends) to progressively more complex concepts about word structure (advanced vowel spellings, multisyllabic words, inflectional endings, all six syllable types). Most concepts are taught at a single-syllable level prior to advancing on to multisyllabic words. By Unit 14 of HD Word, students are reading multisyllabic words like absorbent, repeatedly, and inanimate. By Unit 26, students are reading words like entanglement, prescription, and humorously. By the last unit, students are reading words like programmable, predominate, and coincidence. Younger students learn the same concepts and develop the same skills while practicing with more age-appropriate words, such as fantastic, repeating, untidy, detective, thermometer, and celebration. Extension activities built into many of the lessons provide an additional layer of practice and challenge for students who need it.
Lesson 5 (Friday)
Student Practice

15–20 minutes

Each unit has a series of high-impact practice activities that focus on the phonics concepts taught. The practice is cumulative and controlled. Students only practice with the items that have been explicitly taught, as well as with words from the Dolch 220 high frequency word list. These activities include Detective Work, Word Sorts, and Phrase and Sentence Reading. Each student reads aloud several times during each lesson so the teacher can provide immediate feedback through Positive Error Correction. These activities allow teachers to see who has mastered the concepts and who needs more help. Additional, optional activities, including homework, are also included.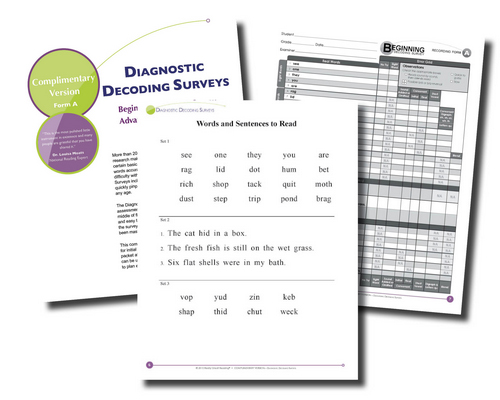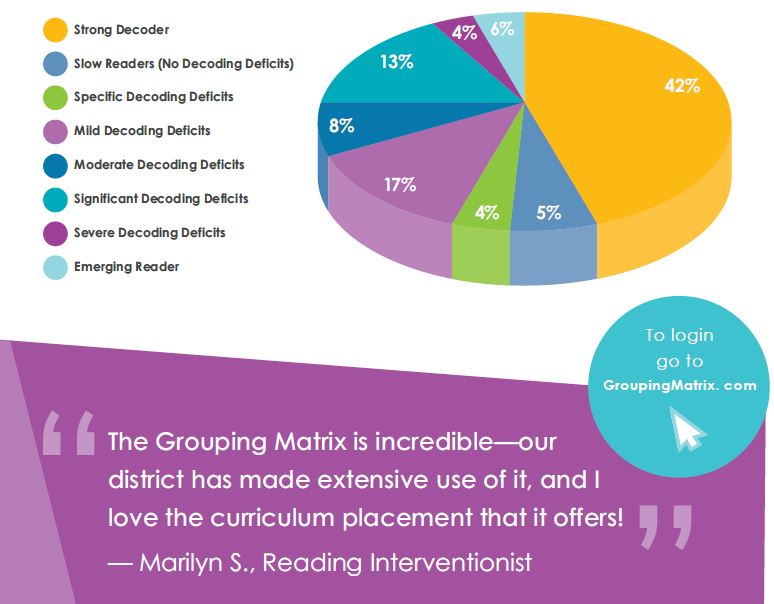 Successful reading interventions start with accurate diagnosis and grouping. Really Great Reading's Grouping Matrix helps facilitate differentiated data-driven instruction and reporting. It is a free, web-based data management system that enables educators to group students (K- 12) according to the type and depth of their decoding difficulties. The same data management system can be used to monitor progress, report, and adjust.
Now you can assess and group your students in just one step. As you listen to your students read, enter the miscues directly into the Grouping Matrix, and it will do the rest. "Live Assess" will pinpoint the types of word a student is misreading, identify specific areas of confusion, total the types of errors, record the results, and group your students according to their decoding strengths and weaknesses. It's never been easier to diagnose and group your students.
Learn more and sign up for free access to the Grouping Matrix>>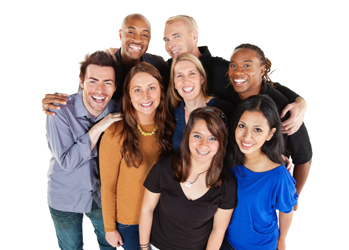 Teacher background knowledge is a key component to successful reading intervention. Really Great Reading offers different training options to provide teachers and interventionists with the background knowledge they'll need to successfully diagnose, group, and teach struggling decoders. Even if you don't use Blast Foundations, HD Word, Phonics Blitz or Phonics Boost, our professional development will offer you valuable techniques for helping struggling readers.
Book a workshop or see a schedule of workshops and webinars>>